Another approach to the future landscape, arising in part out of the conservation movement, places great value on the preservation of remaining wilderness areas and would restrict or prevent new development of certain environments. Furthermore, it calls, wherever possible, for urban and agricultural development in which native flora and fauna can survive. Preservation of the natural ecology requires a smaller capital investment than the construction and artificial maintenance of exotic parks, such as envisaged by the 'garden' ideal, but, on the other hand, in some cases requires substantial short-term disadvantage to some mining, agricultural and real estate interests.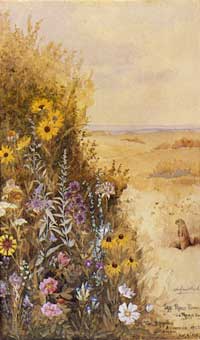 5.7
Edward Roper, Prairie flowers near Broadview, Assiniboia, 1887
Watercolour on pencil, 51.7 x 31.4 cm
Public Archives of Canada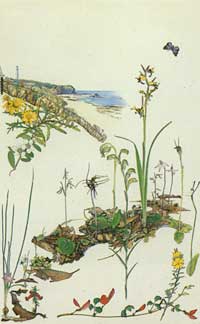 5.8
Charles McCubbin, Airey's Inlet, n.d.
Watercolour, 48 x 30 cm
Collection of the artist
In this exhibit we have imagined three possible landscapes of future development. The first, unlimited and unrestricted growth, surely spells disaster perhaps even in the short run. The second, recreating the city, as one might say, in God's image, as a garden, seems economically impractical except in certain limited urban situations. The third, an integration of humane ecological values and those of private economic interests, moderates the greed of the first approach and the utopian quality of the second.
In examining these three possible future landscapes, we are in fact focusing on the influence of cultural factors in the depiction of natural appearance, but the distinction between appearances and their representation in art or science is not, as it might be assumed, a distinction between nature and culture. Seeing and depicting nature are both subject to the dictates of culture. Perception and representation are bounded by the constraints of habit and convention and filtered by networks of expectation, interest and preference.
This realisation, it should be stressed, does not necessarily lead one to an ultimate relativism which refuses to recognise the application of any standards of fidelity and truth in the processes of perception and representation. The Renaissance discoveries of the geometry of visual perception are relevant and valuable, if not ultimately reliable, as are the increasingly sophisticated cross-cultural studies of the psychology of perception. While standards based on these and other theoretical assumptions retain certain arbitrary and conventional dimensions, they may still usefully guide our actions in the pursuit of particular goals.
Over a century ago, the painter John Constable compared the art of seeing nature with the art of reading Egyptian hieroglyphs: both are complex skills to be learned. Furthermore, it is not merely the 'mastery of appearance' that must be acquired. Both art and science probe a realism that lies beyond mere appearance and pictorial fidelity.
For example, John Wolesley's paintings of Central Australia integrate visual and cognitive truths which, though they do not make up a single perceptual pattern meeting the individual eye, nevertheless provide a richly complex depiction of the defining characteristics of a given landscape. To the extent his vision is accurate he gives us a closer approximation of nature than could ever be achieved by photographic likeness.