Some Australian Aboriginal artists have chosen to move outside their traditional forms of landscape representation and have utilised a medium and style resembling in many ways those used by European artists. Thus, in the sense in which we have been using the phrase, it is as if Albert Namatjira was able to see his own tribal homeland through European eyes. In ITEM 3.22 not only has he replaced charcoal, ochre, and vegetable dyes for watercolour, but, more significantly, he follows European perspectival formulae of overlapping planes and colour cadences from distinct reds and yellows to purples and, in the furthest distance, misty blue. The 'Europeanness' of this formula may be seen by a comparison with Cameron's painting of the Scottish highlands, ten thousand miles from Central Australia.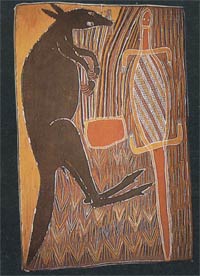 A traditional Aboriginal bark painting
Anonymous
Collection, D.W. Chambers
and R.A. Faggetter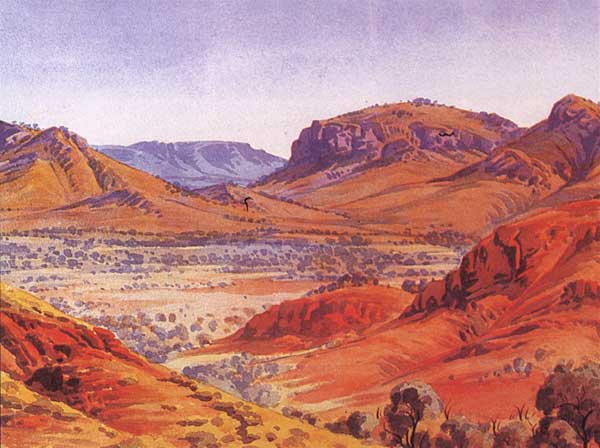 Though Namatjira's landscapes are sensitively drawn, contributing to our understanding of the land itself, some have said his popularity resulted from the novelty of a tribal artist painting his own country in the European mode. Yet no European could have produced the landscapes he gave us. His mastery of certain 'naturalistic' techniques and his close knowledge of the land itself are demonstrated in ITEM 3.22 . Consider the remarkable feeling of three dimensions, missing in the Cameron. Consider also which of the paintings would serve as the better 'map' for a person setting out to cross the ranges depicted. Namatjira delineates a landscape, based on close and friendly knowledge. One feels he has seen the other side of each ridge and knows what lies beyond.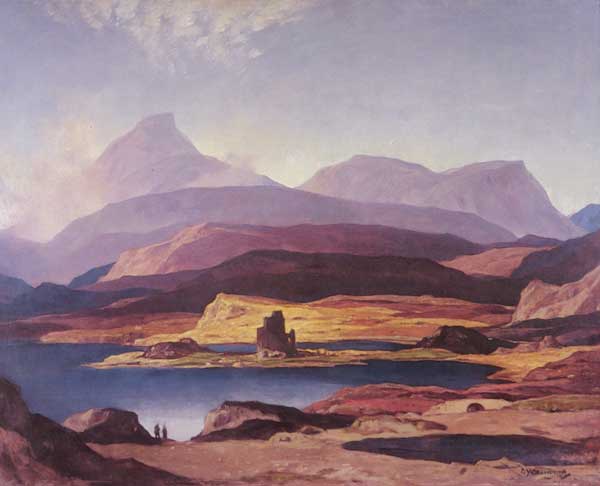 One of the first artists in Australia to forsake European canons of picturesque beauty was the Englishman John Glover who arrived in Tasmania in 1831 at the age of 64. His intense admiration for Claude may be seen in his portrayal of the English Lake District (ITEM 3.24) which should be compared with ITEMS 2.2 and 2.6 - 2.11. As would be expected, a number of his first colonial landscapes followed European formulae. Consider, for example, the 'sublime' vision of ITEM 3.25, exemplified particularly in the majestic mountain scenery. Then too the rainbow sanctifies and adds mystery to the gloomy precincts of the orphanage. Yet, already his gum trees have a certain credibility as Australian bush, rather than European forest. The River Nile (ITEM 3.26) is one of several canvasses to give us the sensuous Tasmanian bush in true visual independence from the classical patterns of European aesthetic dogma.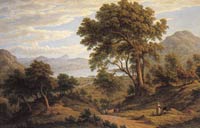 3.24
John Glover, Ullswater, 1840
Oil on canvas, 76.4 x 114.6 cm
National Gallery of Victoria
Presented by Miss B Hunter, 1840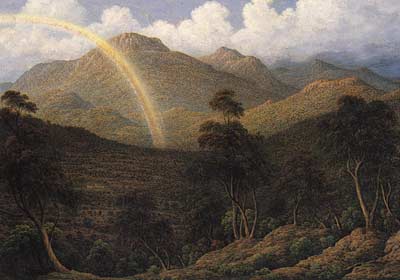 3.25
John Glover, Mount Wellington with the Orphan Asylum – Van Diemen's Land, 1837
Oil on canvas, 76.5 x 114.2 cm
National Gallery of Victoria
Funds provided by the Joe White Foundation, 1981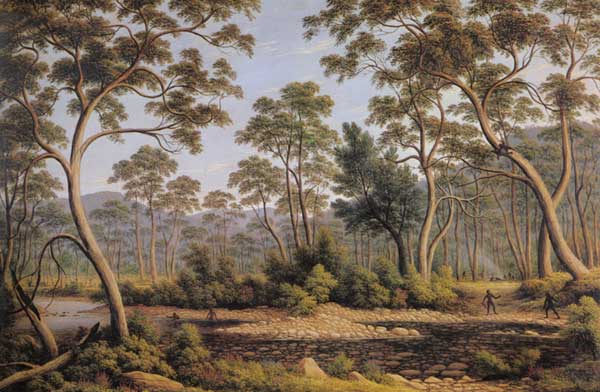 Australian sky and nature awaits, and merits real artists to portray it. .. there is a whole system of landscape painting of the most striking character, yet available for human art ...

John Lhotsky, 1839
When Claudian approaches to the Australian landscape were finally left behind, it was surely because Australians had ceased to see their land according to 'picturesque' formulae. It probably never seemed 'sublime' to early Australians despite the brilliance of von Guerard's attempt to describe it so (see ITEM 3.16). However other European movements, for example impressionism and surrealism, showed themselves better adapted to delineate the sear beauty of the Australian bush and the 'savage and scarlet' spirit of its deserts. And in recent years distinctive and sympathetic ways of seeing and depicting Australian sky and nature have begun to emerge. Yet no one style will have all the answers. In each new generation nature must await the appearance of Lhotsky's 'real artists'.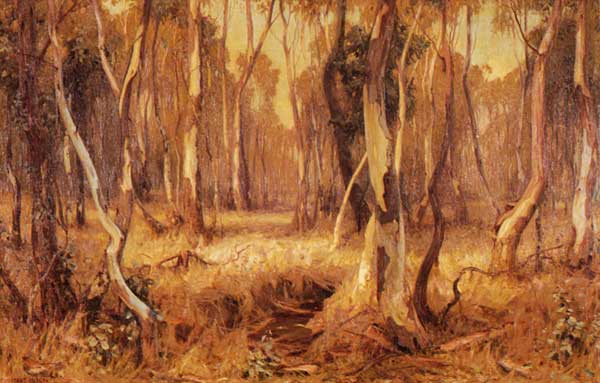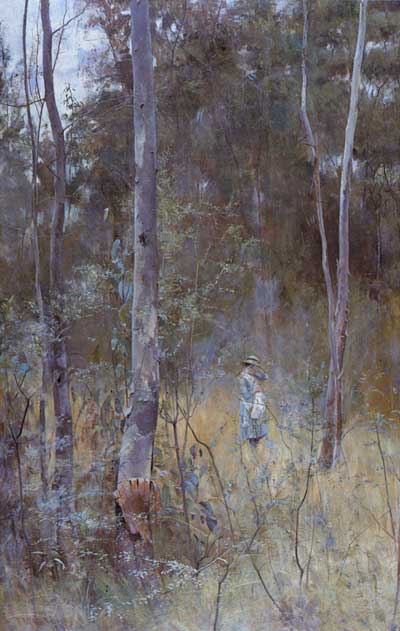 3.28
Frederick McCubbin, The lost child, 1886
Oil on canvas, 114.3 x 72.4 cm
National Gallery of Victoria
Felton Bequest, 1940
Further examples of modern Australian landscapes may be found on the cover, title page and in Exhibits Four and Five.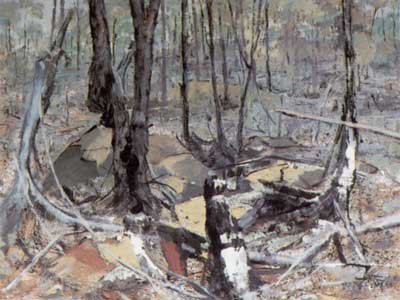 3.29
Clifton Pugh, Day of winter, 1959
Oil on composition board, 68.6 x 91.4 cm
National Gallery of Victoria
Purchased 1959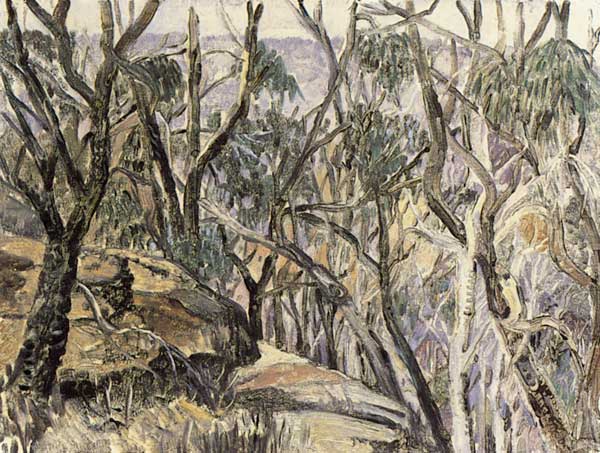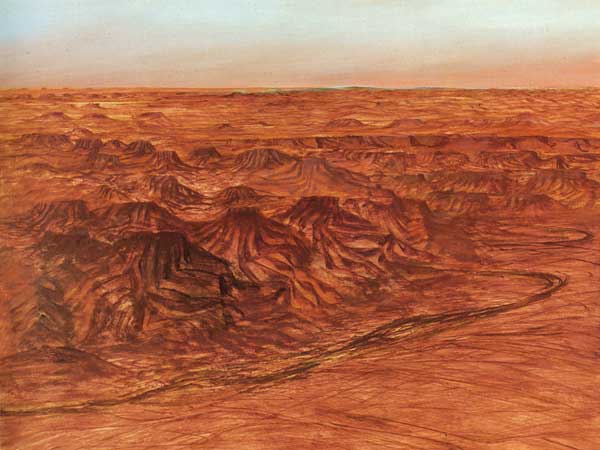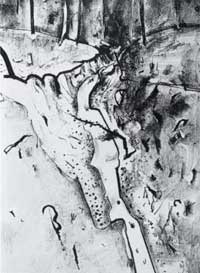 3.32
Fred Williams, Wild Dog Creek I, 1981
Lithograph, 37 x 50 cm
Collection of Deakin University, Geelong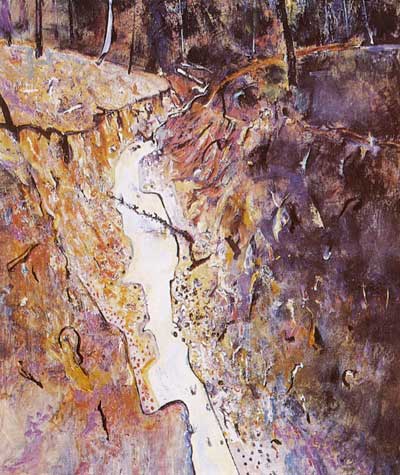 3.33
Fred Williams, Wild Dog Creek, 1977
Oil on canvas, 183 x 152.5 cm
Private collection, Melbourne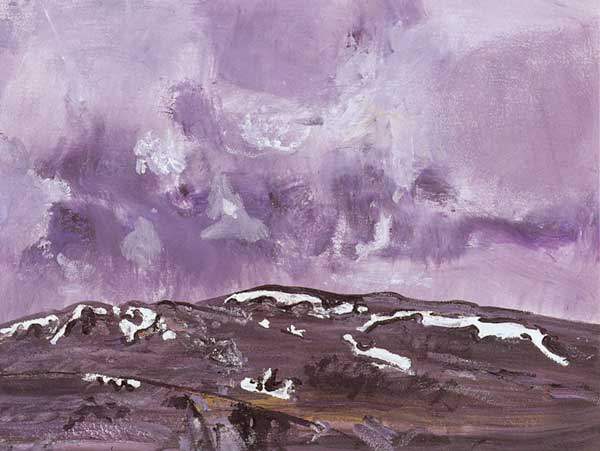 FURTHER READING
Carmichael, D. G., Catalogue of the McMichael Canadian Collection, Kleinburg, Ontario
Lord, Barry, The history of painting in Canada, NC Press, Toronto, 1974
Seddon, G. and Davis, M. (eds), Man and landscape in Australia, Australian Government Publishing Service, 1976
Smith, Bernard, European vision and the South Pacific, Oxford University Press, London, 1960
Thomas, Daniel, Outlines of Australian art, Macmillan, Melbourne, 1973