The photographs (ITEMS 2.10 and 2.11) were taken within a short distance of the same location and within a few years of Chiang Yee's visit. Do they help us resolve the matter? Leaving aside the important fact that a photograph itself is a composed representation of the landscape (and thus may itself be judged a good likeness or a bad likeness), we still face a considerable dilemma. Even standing on the lakeshore with the two paintings in hand, a final judgement on their relative realism would depend on the angle and quality of light, and time of day, season and weather. It might vary according to the choice of where exactly to stand, which tree, if any, to include in the frame of one's looking, and so on through a wide range of factors. In the process of seeing one is forced to make important decisions about what to leave in the frame and what to leave out. And, within the frame, of what to make note.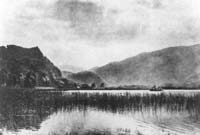 2.10
E.A. Ife, A grey evening, Borrowdale, 1932
Photograph from The English landscape in picture, prose and poetry, by Kathleen Conyngham Greene, Nicholson and Watson Ltd, London, 1932
In other words, in seeing, one is actually composing a picture of reality, a process not unlike that used by each of the two artists. The mental pictures thus constructed will of necessity delete certain small details, perhaps twigs, sedge, a bird, reflections in the water, movement, mist, stones, etc. which, taken together, may be quite significant.
All this is intended simply to confirm that the process of seeing, like the process of representation, is, in its very essence, selection and interpretation. But when we compose these mental pictures of reality, what are the criteria, conscious, or more often subconscious, by which we select and interpret?
Exhibit 2 demonstrates some aesthetic and technical factors at work. The exhibits that follow will show additional social, cultural and economic factors which help determine what we actually see when we look at nature.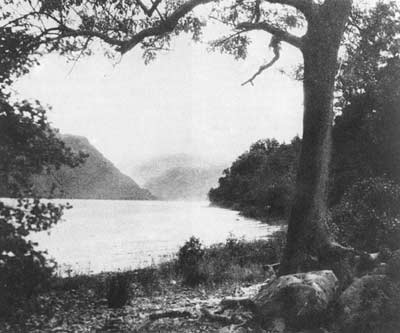 2.11
E.A. Ife, Derwentwater, 1932
Photograph from The English landscape in picture, prose and poetry, by Kathleen Conyngham Greene, Nicholson and Watson Ltd, London, 1932
FURTHER READING
Conron, John (ed.), The American landscape, Oxford University Press, New York, 1974
McShine, Frank (ed.), The natural paradise, Museum of Modern Art, New York, 1976
Novak, Barbara, Nature and culture, Oxford University Press, New York, 1982
Stilgoe, John R., Common landscape of America, 1580 to 1845, Yale University Press, New Haven, 1982